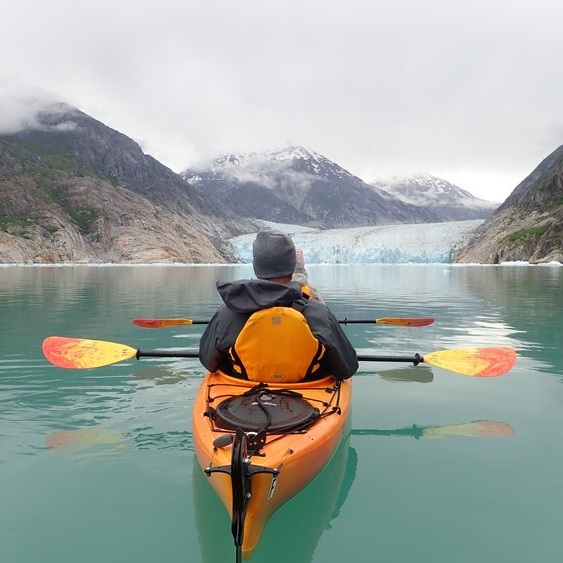 Alaskan Adventure
"My husband and I just returned from a fabulous trip to Alaska on one of the uber small Un-Cruise (Alaskan Expedition) ships, and the experience was flawless from start to finish. Caitlin Gallagher with Ambren Travel inspires such confidence because she really listens to what you want and her attention to detail makes planning a dream trip such a pleasant experience. She can make recommendations based on her extensive "research", meaning she has first hand experience of the trips she plans for her clients. We can't recommend her highly enough!" — Carolyn B.
"Caitlin has been amazing about helping us plan our Disney Cruise! She's had great suggestions for flights hotels and transfers. She's been able to answer all my questions about the cruise, even questions I didn't know to ask. Prior to our trip we received all our trip information put together in a complete booklet. So helpful! Thanks, Caitlin!" -Victoria M.
"I worked with Caitlin to book a ladies-only Cancun trip for 10 people. She found the best resort within our budget and was completely on top of all of the logistics that it required. Ten women is a lot to manage! Caitlin was responsive to all of our questions and needs, and did a great job following up after the trip to get feedback. She comes highly recommended." — Mary Beth B.
"Ambren Travel handled all of our travel needs for our trip to Barcelona and Portugal including the Azores. Caitlin did an excellent job of matching our hotel preferences to our desires and anticipating activities we would enjoy while traveling in our rented car conveniently reserved by Caitlin. Everything flowed like clockwork and we highly recommend Ambren Travel's services!" — J. Croft
Rhine river cruise
"This trip was the best we have ever experienced! Caitlin planned a trip to to Amsterdam followed by a Scenic Rhine river cruise that ended with time in Switzerland for a group of 8 of us. Caitlin's organization and her quickness in answering any and all questions before and during our trip was remarkable. The added bonus of a gift, upgraded room in Switzerland, etc., are all reflections of the person she is and shows the care she gives her clients. We are planning to continue to be long-term clients of yours, Caitlin, and many of my friends are now saying the same thing. Job well done...thanks for giving us this trip of a lifetime!"
— Mary Kay & Stephen E.
"My husband and I had the pleasure of working with Caitlin at Ambren Travel to book our honeymoon. Between the two of us, my husband and I could not figure out where we wanted to go on our honeymoon… there were so many options! Caitlin was such a huge help in making that final decision! We knew that we wanted it to be somewhere tropical (as we're both lovers of the beach), foreign, and many opportunities to be outdoor and active! After much deliberation and messages with Caitlin, we were finally able to decide on the gorgeous Sandals La Toc resort in St. Lucia. We were SO happy with our decision and had an amazing, memorable time! Caitlin was so thorough and helpful the entire time, too! Not only did she show us all of the excursions and add-ons of the resort, but also she sent us with an entire itinerary, check-in instruction, and notebook to keep track of all the adventures we had… it was beyond perfect! We can't wait to start planning our next trip with Caitlin!" — Karen and Mitch B.
"Our family of 4 (kids ages 10 and 12) decided to plan an adventure to Italy for spring break. When I started researching travel plans myself, I become instantly overwhelmed. A good friend referred Caitlin to me with glowing reviews. I like to think of myself as an organized/detailed person, and Caitlin surpassed my expectations. From beginning to end she answered all of our questions and planned a memorable escape for our family to Florence, Tuscany, Cinque de Terre, and Rome. We requested unique hotels and an itinerary that would combine seeing all of the main sites while allowing us time to explore on our own. We were not disappointed! Caitlin's customer service and connections are invaluable. We will be giving her a call again!" — Laurian E.
Though we typically plan vacations ourselves, when we wanted to visit Italy with our three children, we knew we needed advice. I called Caitlin and she immediately started planning an amazing trip for the five of us. She took care of everything - from researching flights to booking with the best hotels to getting us guides that perfectly fit both us and the children to arranging one of a kind experiences. It was absolutely wonderful. The customer service she provided was unmatched and she was there every step of the way - always available and helpful. I can't say enough about how much I enjoyed working with her, and now I think I'll always leave the vacation planning to her! We are eternally grateful! — Kari C.
Cruisin' through cuba
"Caitlin did a wonderful job of helping me prepare for our family cruise to Cuba. It was the first time I'd planned such a large trip and Ambren Travel was there throughout the process making sure I'd dotted ever "i" and crossed every "t." Taking care of the Visas, rules etc for travel to Cuba I was concerned but she made it so easy the entire way from planning to booking to traveling. Without hesitation we'll use her again in the future for all of our plans!"
— Aimee C.